> Home > Frontline Training > Training Guides
10-Step Anti-Stress Campaign
Booklet, Leader's Guide, and Certificates
| | |
| --- | --- |
| | Each pack includes 10 booklets, one leader's guide, and online content. $59.95 |
An unavoidable part of working in customer service is the stress that goes along with the job.
Now you can help your reps manage stress with the 10-Step Anti-Stress Campaign. The result will be higher job satisfaction, healthier employees, and happier customers.
This hands-on guide includes a worksheet to help your reps identify the things that cause them the most stress. Strategies for accepting the stressors they can't change and for creating a personal action plan to change those things that they can. The guide also includes time management strategies, stress reduction exercises, techniques for creating "worry time," and more.
To learn more, read the sample section, Write an action plan for the stressors you can change. You'll see just how much useful, skill-building information is packed into this practical guide.
The 10-Step Anti-Stress Campaign is provided in packages of 10. You'll have a copy for each of your reps so that everyone benefits from its powerful message. You'll also receive a leader's guide and links to download certificates for you group.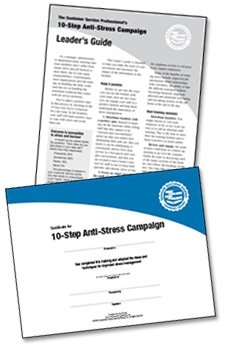 Leader's Guide
Your leader's guide will show you how to conduct training exercises based on the material in the student booklets. You'll receive sample dialog, activities, and tips to engage everyone on your team.
To learn more, read the sample section.
Certificates of Completion
Use these certificates to acknowledge significant learning and development, and to provide motivation to put new skills into action.
Certificates may be downloaded, personalized, and printed.
Table of Contents
| | |
| --- | --- |
| Introduction | Manage stress for a happier, healthier life |
| Step 1: | Identify your main stressors |
| Step 2: | Learn to manage what you cannot change |
| Step 3: | Write an action plan for the stressors you can change |
| Step 4: | Understand your organization's expectations |
| Step 5: | No whining |
| Step 6: | Manage your time |
| Step 7: | Clear the clutter |
| Step 8: | Address the physical causes of stress |
| Step 9: | Beat stress with breathing and relaxation techniques |
| Step 10: | Use humor to lighten your day |
| Worksheet: | Personal stress level worksheet |
| Worksheet: | Personal stressors worksheet |
Your Guarantee of Satisfaction
10-Step Anti-Stress Campaign is guaranteed. We want you and your reps to use this valuable resource and put its ideas to work in your department. Then, if you are not 100% satisfied, you may return your materials within 30 days for a full refund.
About the Publisher
The Customer Service Group provides ready-to-use tools for customer service training and frontline motivation including a monthly newsletter, training guides, DVDs, and Customer Service Week celebration materials.