> Home > Management Excellence > Books
The Barbara Burke Collection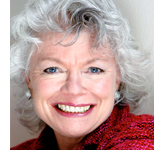 One of the most difficult aspects of training is finding the best way to reach each individual on the service team.
For over three decades, Barbara Burke has shared solid service training and impactful encouragement with supervisors and frontline staff at some of the nation's leading service centers. Her down-to-earth style and inspirational tales allow her to reach everyone on the service team.
Now, with her award winning books, she brings her engaging style, practical service techniques, and motivational approach to your team.
Her short, easy-to-read, workplace fables offer tools, inspiration and wisdom to help customer service professionals deal more easily with their challenging jobs.
Barbara's books are ideal for reading groups and for team training sessions where discussion and camaraderie will flow.
The Napkin, the Melon & the Monkey
| | |
| --- | --- |
| | Softcover, 144 pages. $13.95 |
This customer service fable follows frontline rep Olivia, as she deals with everyday problems in the service center. Olivia's life lessons are amusing and memorable, and provide essential principles in a digestible fashion. Her story is one that every frontline rep can relate to, and her route to success is one that everyone can learn from. With easy-to-understand parables and down-to-earth language, this charming story of achievement will appeal to everyone who has ever looked for the answers to their work worries.
In this book, readers will find important lessons including:
The SODA principle (Stop. Observe. Decide. Act) — A sure-fire formula for staying calm in any emotionally-charged situation (including customers who are acting badly.)
Unplugging — A centuries-old practice to reduce anxiety and promote creativity.
Aha!s — 22 practical wisdom insights that become the framework for living a happy life.
Storytelling — The "wisdom stories" within the story offer time-tested lessons any one can use to be happier and more successful.
The Monkey, the Moon & Maybe
Softcover, 135 pages.
Plus custom bookmark. $13.95
This sequel to The Napkin, the Melon & the Monkey provides inspiration and guidance in dealing with the constant change in the customer service center. The lessons Olivia learns in this book provide the road map she needs to live with uncertainty at work and in life. It is the same road map anyone can use to bounce back from adversity and live fearlessly.
The important life lessons include:
How to be more resilient — The key to living a happy life.
How to use mindfulness to reduce stress and improve outcomes.
How to handle your next life-changing event with grace and ease.
How to struggle less, love more and live a more joyful, satisfying life.
Your Guarantee of Satisfaction
The Napkin, the Melon & the Monkey and The Monkey, the Moon & Maybe are guaranteed. We want you and your reps to use these valuable resource and put their ideas to work in your department. Then, if you are not 100% satisfied, you may return your materials within 30 days for a full refund.
About Barbara Burke
Barbara partners with her contact center clients to improve customer satisfaction, increase efficiency, and build frontline engagement. She applies her proven culture change process to move the operation beyond efficient transaction handling to focusing on improving the quality of the customer experience. Learn more about Barbara.