> Home > Frontline Training > Training Guides
Contributing to a Positive Workplace
Booklet, Leader's Guide, and Certificates
Each pack includes 10 booklets, one leader's guide, and online content.
$59.95
Each person on the customer service team has it in their power to create a more positive work environment. And that's good for everyone — the benefits include improved teamwork and cooperation, a happier, healthier staff, and more satisfied, loyal customers.
In Contributing to a Positive Workplace, a team of customer service and relationship experts present 15 simple rules to make the work experience more positive.
They speak directly to reps, and through a range of ideas and styles they will reach everyone on your team. Whether it's an "ah-ha" moment about avoiding "toxic talk" or about "being fully present in the job," it's thoughtful advice that can change attitudes and behaviors.
To learn more about the training guide, please read the introduction. You'll see that the style is positive, upbeat, and motivating. You'll also receive your manager's copy of the Leader's Guide.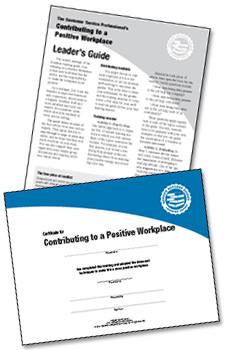 Leader's Guide
Your leader's guide will show you how to conduct training exercises based on the material in the student booklets. You'll receive sample dialog, activities, and tips to engage everyone on your team.
To learn more, read the sample section.
Certificates of Completion
Use these certificates to acknowledge significant learning and development, and to provide motivation to put new skills into action.
Certificates may be downloaded, personalized, and printed.
Table of Contents
Introduction

Rule 1:

Be fully present in the job

Rule 2:

Don't let others drain you of your positive energy

Rule 3:

Avoid toxic talk

Rule 4:

Be proud of what you do

Rule 5:

Make someone's day every day

Rule 6:

Nip conflict in the bud

Rule 7:

Develop a learning attitude

Rule 8:

Don't let customers drag you down

Rule 9:

Be accessible and responsive to coworkers

Rule 10:

Show your appreciation

Rule 11:

Celebrate your successes year round

Rule 12:

Don't take it personally

Rule 13:

Manage your emotions

Rule 14:

Focus on work/life balance

Rule 15:

Embrace an attitude of respect
Your Guarantee of Satisfaction
Contributing to a Positive Workplace is guaranteed. We want you and your reps to use this valuable resource and put its ideas to work in your department. Then, if you are not 100% satisfied, you may return your materials within 30 days for a full refund.
About the Publisher
The Customer Service Group provides ready-to-use tools for customer service training and frontline motivation including a monthly newsletter, training guides, DVDs, and Customer Service Week celebration materials.