> Home > Frontline Training > Training Guides
Customer Service Answer Guide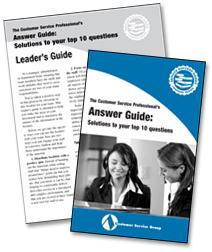 To help you get the most from your training materials, you'll receive a copy of the Leader's Guide. It will show you how to introduce the materials to your staff in a positive and motivating way. How to reinforce important points in the booklet. Plus techniques to keep the message fresh long after the booklets have been distributed.
Best of all, you don't have to be a professional trainer to use the program because the Leader's Guide includes discussion topics, activities, trainer's tips, and more.
Read the sample below to see how much useful information is packed into a brief section of this guide.
Healthy lifestyles
Several of the questions and answers in the guide focus on a healthy lifestyle and its role in making a positive impression, dealing with stress and maintaining high energy levels. Many people don't recognize this powerful connection, so it is often worth spending some additional time reviewing this advice. In particular:
Leave your workstation at breaktime
Stay organized
Get plenty of rest
Choose healthy snacks
Exercise or stretch every day
Think positively
Remind yourself that you are a professional.
A related activity is creation of a lifestyle group for your service center. This team is often made up of frontline reps and can become a coveted assignment. The lifestyle group may be responsible for the following types of activities:
Keeping the breakroom filled with healthy snacks.
Providing educational materials on the benefits of exercise and proper nutrition.
Hosting training sessions in yoga and other stress reduction techniques.
Organizing healthful break activities such as walking groups.
Often, the human resources department is able to provide support for these activities.