> Home > Rewards & Recognition
Thank You Kit
Starter Kit. Guide, 25 thank you cards, 25 blank gift certificates, recognition log, $69.95



Refills. 25 thank you cards, 25 blank gift certificates, recognition log, $39.95
On-the-spot recognition provides a low cost, high impact way to recognize and reward employees for a job well done.
Now, the Customer Service Group's Thank You Kit brings you everything you need to make on-the-spot recognition a part of your strategy for recognizing, rewarding and motivating frontline staff.
Your kit includes a detailed guide to everything you need to know about on-the-spot recognition; 25 high-quality thank you cards that you'll be proud to give; 25 blank gift certificates; and a recognition log so that you can manage your program with ease. And it's all packed in a convenient portfolio, so there's no searching for materials when you need them.
The Guide
At the heart of the Thank You Kit is the Recognition Guide. It will take you step by step through the process of setting up and running an effective on-the-spot-recognition program. View now.
Key sections include:
Understanding why on-the-spot recognition works
Determining what behaviors you will recognize and reward
Selecting when, where, and how to recognize reps
Writing the perfect thank-you note (includes guidelines and examples)
Building on your thank-you notes with no-cost and low-cost gift ideas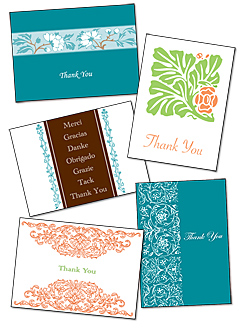 Thank You Cards
You'll be proud to present these attractive, high-quality cards. Five different botanical designs are perfect for everyone on your team. View now.
Gift Certificates
Sized to fit within your thank-you cards, the gift certificates have blank lines where you may write in the gift. (Don't forget to consult the guide for no-cost, low-cost gift ideas.) Or if you prefer, include a gift card. View now.
Recognition Log
The log will make record keeping easy and ensure that your program is fair and equitable to all.
Everything in the Thank You Kit: the guide, cards, certificates, and log work together to help you boost morale and improve performance by recognizing and rewarding positive behaviors on the spot.