> Home > Frontline Training > Training Guides
Effective Email Communication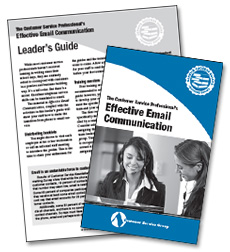 To help you get the most from your training materials, you'll receive a copy of the Leader's Guide. It will show you how to introduce the materials to your staff in a positive and motivating way. How to reinforce important points in the booklet. Plus techniques to keep the message fresh long after the booklets have been distributed.
Best of all, you don't have to be a professional trainer to use the program because the Leader's Guide includes discussion topics, activities, trainer's tips, and more.
Read the sample below to see how much useful information is packed into a brief section of this guide.
Activity 4: Language differences
The booklet also advises readers on a number of points to ensure that their writing is clear to non-native English speakers. However, these simple guidelines will make all correspondence more readable and should be used when possible. The booklet advises keeping sentences short, avoiding negative statements, slang, acronyms, sports phrases, and idioms, and using international standards for dates.
Of these, the most difficult step to master is using positive statements. To help your team, prepare a list of negative statements that may crop up in the course of your work. Write these on a whiteboard or flipchart and ask the team to brainstorm the best way to turn each negative into a positive.
Two examples appear in the booklet, additional examples are below:

"We must make sure that our customer service staff does not act in an unprofessional manner."
"We must make sure that our customer service staff acts in a professional manner."

"The ship date will not be met if the quality assurance team fails to approve the current version."
"If the quality assurance team approves the current version, we will ship on time."