The Healthcare Professional's
Cultural Competence: Developing and Using Cross-Cultural Communication Skills
| | |
| --- | --- |
| | Each pack includes 10 booklets and one leader's guide. $54.95 |
Your staff, working with people from a variety of cultures and backgrounds, must be encouraged to embrace diversity, exercise cultural competence, and communicate effectively with each patient, doctor and coworker they encounter.
With the training guide, Cultural Competence, your staff will learn the importance of good cross-cultural communication, how to hone their communication skills, and how to change negative habits into positive behaviors. They will give your organization a competitive edge by being sensitive to the unique needs of individuals from all cultures, and working toward making all people feel comfortable in your practice or hospital.
To learn more about Cultural Competence, you may read the introduction. You'll see just how much useful, skill-building information is packed into this practical guide.
Cultural Competence is provided in packages of 10. You'll have a copy for everyone on staff, from receptionists and billing specialists to clinical staff. You'll also receive your manager's copy of the Leader's Guide.
Leader's Guide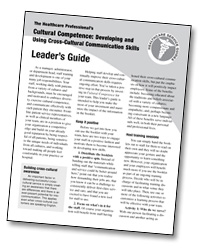 Your Leader's Guide will show you how to conduct training sessions on the material in the booklets. You'll receive sample dialog, activities, and tips to engage everyone on your team.

To learn more, read the sample section.
Table of Contents
What does it mean to communicate with cultural competence?
Barriers minority patients face
Benefits of good cross-cultural communication
Acknowledging bias and stereotype
Understanding the norms and traditions of the populations you serve
Unique beliefs and practices regarding health and healthcare
Cross-cultural communication tips
Wrapping up: A call to action
Self test: Assess your cross-cultural competence
The guide also includes a series of thought provoking and inspiring quotes from important public figures.
Your Guarantee of Satisfaction
Cultural Competence: Developing and Using Cross-Cultural Communication Skills is guaranteed. We want you and your reps to use this valuable resource and put its ideas to work in your department. Then, if you are not 100% satisfied, you may return your materials within 30 days for a full refund.
About the Publisher
The Customer Service Group provides ready-to-use tools for customer service training and frontline motivation including a monthly newsletter, training guides, DVDs, and Customer Service Week celebration materials.