The Healthcare Professional's
Guide to Handling Difficult Patients
| | |
| --- | --- |
| | Each pack includes 10 booklets and one leader's guide. $54.95 |
It's happened to everyone who works with patients, whether in a hospital, clinic, or medical practice. You answer the phone or say hello and the patient is angry right from the start.
Now, you can help your staff turn those patients around.
The Guide to Handling Difficult Patients takes readers through nine steps to transform an angry, dissatisfied patient into a satisfied, loyal, long-term patient who knows your organization can be counted on. And who will refer friends and family.
The guide includes information on why patients become angry or upset, techniques your staff can use to calm patients and remain calm themselves, detailed complaint handling techniques including key words and phrases, plus important information on how to recover from a difficult patient encounter and get ready to give the next patient first-class service.
To learn more about the Guide to Handling Difficult Patients, you may read the sample section, Techniques for calming patients. You'll see how much useful, skill-building information is packed into this practical guide.
Guide to Handling Difficult Patients is provided in packages of 10. You'll have a copy for everyone on staff from receptionists and billing specialists to clinical staff. You'll also receive your manager's copy of the Leader's Guide.
Leader's Guide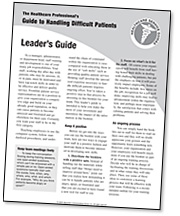 Your Leader's Guide will show you how to conduct training sessions on the material in the booklets. You'll receive sample dialog, activities, and tips to engage everyone on your team.

To learn more, read the sample section.
Table of Contents
Why patients become angry or upset

Good reasons to get good at handling difficult patients
Techniques for calming patients
Staying calm yourself
Getting to the real issue
Solving the problem
Handling the abusive patient
Recovering from a difficult encounter
Keeping difficult patients in perspective
Your Guarantee of Satisfaction
Guide to Handling Difficult Patients is guaranteed. We want you and your reps to use this valuable resource and put its ideas to work in your department. Then, if you are not 100% satisfied, you may return your materials within 30 days for a full refund.
About the Publisher
The Customer Service Group provides ready-to-use tools for customer service training and frontline motivation including a monthly newsletter, training guides, DVDs, and Customer Service Week celebration materials.