The Healthcare Professional's
Guide to Essential Phone Skills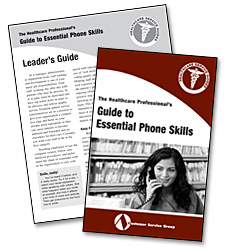 To help you get the most from your training materials, you'll receive a copy of the Leader's Guide. It will show you how to introduce the materials to your staff in a positive and motivating way. How to reinforce important points in the booklet. Plus techniques to keep the message fresh long after the booklets have been distributed.
Best of all, you don't have to be a professional trainer to use the program because the Leader's Guide includes discussion topics, activities, trainer's tips, and more.
Read the sample below to see how much useful information is packed into a brief section of this guide.
Activity 3: Positive words
The booklet stresses the importance of choosing the right words. It sounds simple enough, but in practice it can be difficult. To help your staff improve their word selection set aside time to focus on the four problem areas cited in the booklet:
Jargon
Inappropriate speech and bad grammar
Negative words
Weak words.
For this exercise, you will need a white board or presentation pad. Label the top of the board with the first topic to be discussed i.e., jargon.
Open the discussion by describing the type of speech you will be discussing and why it should be avoided. For example, "A good service practice that we must strive for is to avoid using our own internal jargon with patients. These words and phrases may make perfect sense to us, but to customers they may seem confusing or condescending."
Next ask the group for examples of jargon from your work environment. List these on the left hand side of your board. Then ask the group for more appropriate alternatives. List these on the right had side of your board. Continue through each of the four problem areas cited in the booklet.
Your review of inappropriate speech and bad grammar is sure to bring many suggestions. Ask the group to dig into their own experiences as customers to find speech that they found overly familiar or discourteous. This will be an eye-opening experience as they see exactly what others find offensive or inappropriate.
Before closing the meeting, remind staff to self-censor their speech and to root out negative words and phrases.