> Home
The Healthcare Professional's
Guide to Essential Phone Skills
Introduction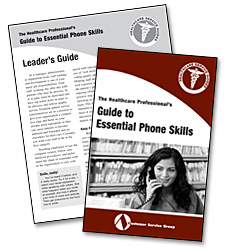 Do you know how to talk on the phone? Of course you do. But do you know how to talk on the phone in a healthcare setting in a way that inspires confidence in patients, doctors, and others you speak with? Or to build a positive image of your organization in the mind of the person you are talking to? Or to establish rapport and solve problems for patients who might be anxious, ill, in pain, or worried about their medical bills?
To do these things requires more skill than simply being able to "talk on the phone." In this guide, we will outline the basic skills you need to turn every telephone call into a positive experience, both for you and for the person on the other end of the line.
Don't worry, there's nothing particularly complex or difficult here. But if you master these simple techniques, you'll soon be a pro at handling calls from patients, their family members, physicians, and everyone else you encounter as a healthcare professional. We'll address voice quality, body language (yes, it matters, even on the phone), proper word choices, making a positive impression, common pitfalls when engaging on the phone, and how to make the most of voicemail.