The Healthcare Professional's
Guide to Stress Management:
A 10-Step Campaign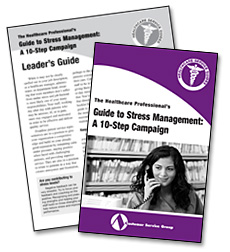 To help you get the most from your training materials, you'll receive a copy of the Leader's Guide. It will show you how to introduce the materials to your staff in a positive and motivating way. How to reinforce important points in the booklet. Plus techniques to keep the message fresh long after the booklets have been distributed.
Best of all, you don't have to be a professional trainer to use the program because the Leader's Guide includes discussion topics, activities, trainer's tips, and more.
Read the sample below to see how much useful information is packed into a brief section of this guide.
Regular follow-up
Set aside a few minutes in each staff meeting for someone to share a situation that he or she found stressful (or perhaps a stressful day or week, in general) and what tools or techniques he or she used to cope. Don't be surprised if you have staff members clamoring to tell their stories at meetings ("You just won't believe what was going on!").
Appoint a team to identify the top stressors for the department as a whole, then to develop a plan for managing them. For example, a team of lab technicians found it frustrating and stressful when instruction forms were not filled out correctly by physicians. The technicians created a one-page instruction sheet, which was sent to all participating physicians. While the problem didn't go away entirely, it got much better. And the technicians felt empowered to make more changes that would reduce stress and ultimately provide better patient service.
As the manager of a practice, clinic, or hospital department, you can make a real difference within your organization by staying tuned in to the overall level of stress (or sense of calm) among staff. If you sense tension or stress on the rise, walk around and talk to your team members. Ask how they're doing, whether they need anything, and what you can do to make their jobs easier or more satisfying.