The Healthcare Professional's
Making a Difference With Excellent Patient Service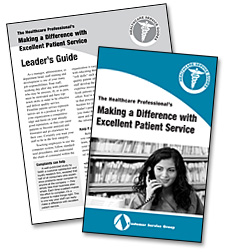 To help you get the most from your training materials, you'll receive a copy of the Leader's Guide. It will show you how to introduce the materials to your staff in a positive and motivating way. How to reinforce important points in the booklet. Plus techniques to keep the message fresh long after the booklets have been distributed.
Best of all, you don't have to be a professional trainer to use the program because the Leader's Guide includes discussion topics, activities, trainer's tips, and more.
Read the sample below to see how much useful information is packed into a brief section of this guide.
Activity 2: Correct
The second step in the ACT method is to correct the service failure. As noted in the booklet, the ultimate goal is to fix a problem on the spot. But realistically, that's not always possible. However, frontline staff must develop the tenacity to stick with a problem until a successful resolution is reached.
In the booklet, Bob Murphy of Studer Group, recommends what he calls "correct plus," in which a patient is offered a small token in recognition of an inconvenience. While this type of offering can be effective it must be managed carefully and guidelines clearly stated — who is authorized to offer what. For example in some healthcare organizations certain staff members are authorized to "forgive" charges up to a certain amount of money, while others are authorized to offer a hot-beverage voucher, and still others must escalate issues to a team leader.
As a group, discuss the most common situations in which patients are inconvenienced or angered. Then brainstorm ideas about small ways that you can "correct plus." The goal of this exercise is to clarify what may be offered as atonement and by whom.