The Healthcare Professional's
Yoga at Work: A Stress Reduction Guide
| | |
| --- | --- |
| | Each pack includes 10 booklets and one leader's guide. $54.95 |
The fast-paced and demanding environment of the typical healthcare setting can take its toll on clinical and non-clinical staff.
Left unchecked, stress mounts and can spill over into negative interactions with patients, coworkers, and others.
Now you can help your staff reduce stress with timeless yoga techniques updated for the modern healthcare facility.
The guide features 23 exercises that can be done in just one to two minutes each either sitting at a desk or standing.
By using these exercises your staff will learn to:
Feel more in control as they work with patients,
Release muscles and ease tension in their shoulders, neck and lower back,
Ease the effects of repetitive motion tasks, and
Increase their focus and attention.
To learn more about Yoga at Work, you may read Part II: Breathing. You'll see just how much useful information is packed into this practical guide.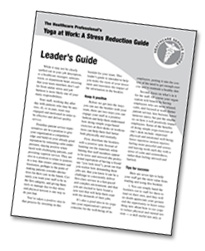 Yoga at Work is provided in packages of 10. You'll have a copy for everyone on staff, from receptionists and billing specialists to clinical staff. You'll also receive your manager's copy of the Leader's Guide.
Leader's Guide
Your Leader's Guide will show you how to conduct training sessions on the material in the booklets. You'll receive sample dialog, activities, and tips to engage everyone on your team.

To learn more, read the sample section.
Table of Contents
Introduction: Reduce stress with timeless yoga techniques
Refreshers
These simple movements take a minute or less each and improve circulation and release tension in the shoulders, neck, jaw, eyes, wrists, and hands. These techniques can be used throughout the day — especially during long periods working with a keyboard and monitor.
Breathing
One of the core yoga techniques, the breathing exercises will show reps how to use their own calming breath to reduce stress.
Shoulder, neck and lower back releases
These exercises relax the muscles and release tension in the problem areas of the shoulders, neck and lower back. They can be done seated or standing in less than two minutes each.
Concentrations
These simple exercises help take attention away from stressful situations and provide a quick, on-the-spot break from the workplace.
Your Guarantee of Satisfaction
Yoga at Work: A Stress Reduction Guide is guaranteed. We want you and your reps to use this valuable resource and put its ideas to work in your department. Then, if you are not 100% satisfied, you may return your materials within 30 days for a full refund.
About the Author
Michaeline Kiss is a highly experienced yoga instructor. She conducts classes in her studio and at major corporations throughout the United States. Her work has been covered by the New York Times and featured in Young Miss, Elle, Glamour, and Oprah magazines.
About the Publisher
The Customer Service Group provides ready-to-use tools for customer service training and frontline motivation including a monthly newsletter, training guides, DVDs, and Customer Service Week celebration materials.