> Home > Frontline Training > Training Guides
Making a Difference Through
Customer Service
Booklet, Leader's Guide, and Certificates
Each pack includes 10 booklets, one leader's guide, and online content.
$59.95
Does your frontline staff understand the important role they play in your customers' and your company's success?
It's an important message and one which is often overlooked in the busy service environment. But helping reps understand the value of their contributions is one of the most effective ways to improve morale, boost teamwork, and enhance professionalism.
And that's just what Making a Difference Through Customer Service does. The guide begins with the four most universal benefits of excellent service: Setting your company apart, building positive word-of-mouth advertising, increasing customer value, and increasing customer retention.
The second section covers seven basic expectations that all customers have and that all frontline staff must strive to meet. Customers want to see: Genuine concern, appreciation, respect, integrity, attention, fairness, and a quick resolution of any issues or concerns.
The third and final section presents seven ways that frontline service staff can go beyond basic expectations to make a real difference in their organizations.
It is a highly motivational message, backed up with research data, examples and sample phrases to help put these important concepts into action.
To learn more about Making a Difference Through Customer Service, you may read the introduction online. You'll see how much useful information is packed into a brief half page of this practical guide.
Making a Difference Through Customer Service is provided in packages of 10. You'll have a copy for each of your reps so that everyone benefits from its powerful message. You'll also receive your manager's copy of the Leader's Guide.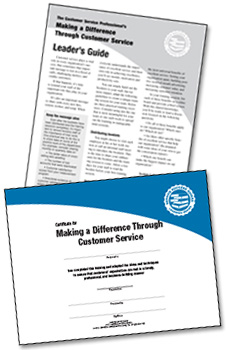 Leader's Guide
Your leader's guide will show you how to conduct training exercises based on the material in the student booklets. You'll receive sample dialog, activities, and tips to engage everyone on your team.
To learn more, read the sample section.
Certificates of Completion
Use these certificates to acknowledge significant learning and development, and to provide motivation to put new skills into action.
Certificates may be downloaded, personalized, and printed.
Table of Contents
1. Introduction: Customer service matters

2. Service contributes to every organization's success

Setting your company apart
Building positive word-of-mouth advertising
Increasing customer value
Increasing customer retention

3. Understanding and meeting customers' expectations

Show genuine concern for customers and their feelings
Show appreciation
Show respect for all customers
Show integrity
Show attention
Provide a fair resolution
Resolve issues on the first call

4. Support your organization's service mission

Look for ways to improve products and processes
Turn complaints into opportunities
Be a positive force
Maintain your energy and enthusiasm
Share your knowledge
Work well with internal customers
Upsell and cross-sell

5. Wrapping up
Your Guarantee of Satisfaction
Making a Difference Through Customer Service is guaranteed. We want you and your reps to use this valuable resource and put its ideas to work in your department. Then, if you are not 100% satisfied, you may return your materials within 30 days for a full refund.
About the Publisher
The Customer Service Group provides ready-to-use tools for customer service training and frontline motivation including a monthly newsletter, training guides, DVDs, and Customer Service Week celebration materials.