> Home > Frontline Training > Training Newsletter
Customer Communicator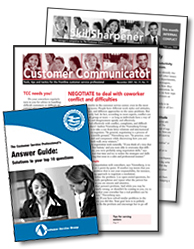 Monthly. Four pages. $21 per person per year. (Minimum order is 10 copies or $210.) Includes the monthly
SkillSharpener
and the
Customer Service Answer Guide
for each of your reps.
• Risk-free guarantee
• Order back issues
• Request a complimentary
copy
• View a sample issue
With The Customer Communicator you can be sure your staff has the skills, motivation and positive attitude needed to serve every customer with poise and professionalism.
Here's how it works:
Every month, each of your reps receives their own copy of The Customer Communicator. Each issue includes information they can use right away to improve their phone skills, handle difficult customers, listen effectively, handle stress, manage their time better, and more.
Best of all, your staff can read The Customer Communicator right at their own desks, at convenient times, and at their own pace. There's no time out of the office for training, no meetings to schedule, no costly travel.
You'll also receive your manager's copy of SkillSharpener. It's packed with hands-on training materials, which you can use to reinforce the monthly training in The Customer Communicator.
You'll find ideas for group discussions, team activities, role-plays, and more, all of which will help you bring new life and enthusiasm to your team meetings and daily routines.
A Free Guide: Your Welcome Gift From The Editors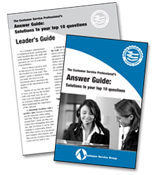 With your subscription, you'll receive a copy of the Customer Service Answer Guide for each of your reps. In an engaging Q&A format, the guide answers the top 10 questions reps ask. Your reps will learn how to bounce back after a nasty call, how to stop stress in its tracks, how to overcome anxiety about selling, and more.
Start your subscription today and receive a free copy of the Customer Service Answer Guide for each of your reps.
Risk-Free Guarantee
If you are ever dissatisfied, just let us know. We will promptly refund the full subscription price. The newsletters and guides you have received are yours to keep.