> Home
The Customer Communicator
Web Extras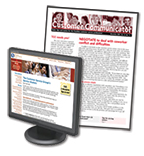 Each month, The Customer Communicator gives frontline reps the skills and motivation they need to serve every customer with poise and professionalism.
We often have valuable background material, additional information, or related resources that we just can't fit in the newsletter. These are presented below.
January 2018
Try your hand at mentoring — Whether mentoring in your organization is a formal or an informal process, it is a great way to build connections on your team and to get new reps up to speed quickly. Here are tips on making the most of the mentoring experience.

December 2017
Don't let the holidays stress you out — Use these time management tips to keep yourself on track during the holidays.

November 2017
Manage your time this holiday season — Take this quick quiz to assess your time-management skills and to see where you might need improvement.

October 2017
Use Customer Service Week to build trust — Building trust with customers and coworkers is an important part of customer service. Click here to access our mini-poster on the "Five Rules of Building Trust."

September 2017
Communicate with coworkers — How well do you communicate with your coworkers? Take this quiz to see what communication skills you might need to work on.

August 2017
Relieve stress and unleash creativity — August 2 is National Coloring Book Day. Try this creative way to relax and unwind with downloadable coloring pages from Dover, a leading coloring book publisher. (Registration is required.)

July 2017
Tell your service stories — Stories not only engage customers, they can also help build a more customer-centric culture as this month's "Web Extra" demonstrates.

June 2017
Keep things light and creative — Reps everywhere are stressed out. Author Michael Kerr shows how humor can help.

May 2017
Become an effective coach — May 1 is celebrated as "Executive Coaching Day," but the benefits of coaching — and being coached — should be celebrated from the front lines to the executive suite. Customer service reps, in particular, should look for others who might coach or mentor them and for those who might benefit from their own coaching. Get started coaching with these five tips on how to mentor new or inexperienced coworkers.

April 2017
Keep workplace conflict in check — Conflicts with managers or coworkers can be more disruptive than conflicts with customers. April is Workplace Conflict Awareness Month and a good time to brush up on conflict resolution skills.

March 2017
Get yourself motivated! — Working in customer service can be stressful and de-motivating. It's "Employee Spirit Month," so we have suggestions from our "Ask the Panel" column on how to stay motivated on the job.

February 2017
Build better relationships — February is "Relationship Wellness Month," use the occasion to focus on the relationships you have with customers, and the perceptions that customers have of your company. Try using the LIFE acronym.
Use caution when delivering bad news to customers — Click to visit Evan Horowitz's website, which offers more advice on delivering bad news to customers, including sample scripts for delivering bad news (scroll to the bottom of the page for access to the scripts).

January 2017
Get organized! — January is Get Organized month. One important aspect of organization is good time management. Click here for tips on managing your time better.

December 2016
Start setting goals for 2017 — Goal setting is usually reserved for January and those perennial "New Year's Resolutions," but starting in December offers an even better opportunity to review both the past year's results and the next year's goals. Try these four techniques.
Tips for good vocal health — The most important tool for a phone service rep is the voice, so it's important to keep that voice strong and healthy throughout the day and throughout the year. Learn more.

November 2016
Start a book club with fellow reps — November 1 is National Authors' Day. Start your book club or reading list with these suggestions.
Quote of the Month — Post this quote from Mahatma Gandhi in your workspace to inspire your efforts all month long.

October 2016
Celebrate your service champions — Send a Customer Service Week eCard, or nominate a coworker for TCC's Frontline Spotlight Award.
How will you spend your time today? — If you need help tracking your workday activities this chart will come in handy.

September 2016
Succeed via self-education — September is "Self-University" Month, and this article from the Customer Service Group archives will give you ideas on where to invest your time and effort.
Positive language keeps customer interactions positive — Print and pin up our "word cloud," with a sampling of positive words and phrases to use with customers.

August 2016
What will be your legacy? — August is "What Will Be Your Legacy" Month, and that makes it the perfect time to reflect on the impact that your work and your attitude in the workplace have on others. This rep's story, from the archives of The Customer Communicator, demonstrates the importance of thinking about the legacy that you will leave.

July 2016
Focus on social wellness — Building positive relationships starts with a good first impression. Here's how.
Avoid confusion, misunderstanding and frustration with good listening This mini-poster features four of our favorite quotes about the importance of listening. Hang it as is, or cut apart and rotate the quotes to keep the reminders fresh.

June 2016
Say something nice today — View an inspirational video on what happens when strangers say something nice.
Remember these telephone basics — This colorful tips sheet will help. Print your copy.

May 2016
Keep wellness top of your must-do list — How can you stay positive and avoid stress in the workplace? Here is a list of workable ideas from the readers of The Customer Communicator.
Spring cleaning for the soul — Click here for a convenient worksheet for recording your work, family, and personal goals.

April 2016
Let laughter brighten your day — Laughter lowers our blood pressure, gives our minds a mini-vacation, and helps us take control of our emotions during and after stressful situations. Try these seven ways to share a smile.
Listening goals — Click here for a helpful good listening reminder that you can post at your work station.

March 2016
Are you listening? — Improve your listening skills with these seven practical tips.
Beat workplace stress with pencils and paper — Next time you're stressed at work, try a quick coloring break with these coloring pages from Hachette.

February 2016
Make February awards month — Show appreciation with these awards and activities.
Take control of your time — Try these daily planning sheets to manage your time more effectively.

January 2016
Keep stress under control — Here are 11 more suggestions from TCC readers on how to handle stress in the workplace.
Smile while you dial — Click here for colorful "smile while you dial" reminders that you can post at your work station.

December 2015
Hone those writing skills — Here's more advice on how to keep your customer communications positive and customer-focused.

November 2015
Celebrate the season — Here are five more ways you can celebrate with your service team.

October 2015
You can be a service hero everyday — Download your copy of our Everyday Heroes™ mini-poster.

September 2015
Practice your people skills — These 10 tips will help you improve relationships with customers and coworkers.

August 2015
Make Miss Manners Proud — Here are some ways in which your team can help to create a more courteous and respectful workplace environment.

July 2015
Celebrate the summer season — Here are suggestions for events and celebrations for your customer service team.

June 2015
Remember your phone etiquette — Try this quiz to determine if you need to brush up on your telephone etiquette.

May 2015
Reading for results — Thinking about starting a book club for your customer service group? Here are some suggestions.

April 2015
For more balance try volunteering — Volunteering is one way to create more work/life balance. For more ideas, click here.

March 2015
Use humor to de-stress — Here are some additional ideas for putting humor to work during International Mirth Month — and throughout the rest of the year.

February 2015
Boost your self-esteem — February is International Boost Self-Esteem Month. Here are some helpful suggestions from JoAnna Brandi.

January 2015
Set realistic resolutions — Setting resolutions can help narrow your focus on the things that really matter. Let these New Year's Resolutions for Customer Service Professionals guide you in the coming year.

December 2014
Be a volunteer this season — Show you're ready to move up at work by offering your help. Here is advice from our panelists.

November 2014
Who's your role model? — Finding a role model in your organization can help you to identify the attitude and behaviors you need to adopt in order to succeed. Here are some characteristics you should be looking for.

September 2014
Practice your enthusiasm — Don't let the customer service routine erode your enthusiasm and dedication to your work. Keep these tips in mind to maintain your positive attitude through the day.

August 2014
Ramp up your service to seniors — Older customers are becoming an increasingly large part of the total customer population for many companies. Here are additional tips on how to work effectively with older customers.

July 2014
Set goals for the next half of the year — Serious goal-setting efforts should include an understanding of the "why" behind specific goals. Here are tips on how to include that perspective in your goal-setting.

June 2014
Communication tops the agenda — Expand and sharpen your communication skills this month by keeping the following different types of listening in mind when communicating with customers.

May 2014
May is civility month — How civil are you when it comes to your dealings with other people? The following self-test will help you gauge your civility score and understand how your words and actions are impacting others.

April 2014
How do you respond to stress? — April is Stress Awareness Month. Are you ready to handle the job-related stress that comes your way? Here are three helpful exercises.

March 2014
Are you an effective listener? — To be able to listen effectively is a critical skill for customer service people. To assess your skills, try this listening skills self-quiz and keep in mind the recommendations of Joe Takash, author of Results Through Relationships.
February 2014
February is National Time Management Month — An article in The Customer Communicator reminds frontline service professionals to make the most of their time. Here are two helpful tools:
January 2014
Put it in writing — Sending personal notes to customers is one way to show your appreciation for their business and to help build more long-lasting relationships. Here's an example of how The Reader's Digest Association thanked customers during Customer Service Week.

December 2013
Use December to take a look back. People who use goal-setting effectively have lower levels of stress and anxiety and higher levels of performance. Use these practical tips to set your personal and professional goals.

November 2013
Giving thanks — The Customer Communicator newsletter suggests that we use the Thanksgiving season as a time to show our appreciation to coworkers. Here are some do's and don'ts for showing your appreciation.
Do what you can to create a culture of motivation in the workplace — In this month's issues of The Customer Communicator and SkillSharpener, Dr. Bob Nelson of RecognitionPRO offers suggestions to reps on how they can motivate themselves and to managers on how they can create a culture of motivation. In the following excerpt from Nelson's 1501 Ways to Reward Employees, he offers additional advice to managers on how they can leverage low-cost recognition tools for the greatest impact.

September 2013
What goals do you have for yourself? — The ability to motivate yourself begins with clearly defined goals. In recognition of Self-Improvement Month, Professor Burton shares his goal-setting checklist.

August 2013
Make 'em laugh — With National Tell-a-Joke Day happening this month, the August issue of The Customer Communicator covered how to inject a little humor into the work day. Here are three humorous true tales of service misunderstandings.