> Home > Frontline Training > Training Guides
Time Management for Stress Reduction and Productivity
Booklet, Leader's Guide, and Certificates
Each pack includes
10 booklets, one leader's guide, and online content. $59.95. Order two or more by December 18th to save 20% — $47.96 each pack.

Good time management is one of the most important skills for service professionals to master.
But, the pressing and often conflicting demands of customers, teammates, other departments, and management make it difficult for even the most experienced and well-organized reps to manage all of their day-to-day tasks and deadlines.
Now, you can help your staff improve their time-management skills and accomplish more each and every day with Time Management for Stress Reduction and Productivity.
This hands-on guide includes a quiz to help reps evaluate how well they are managing their time. And 16 strategies that they can start using right away to better organize their day and their work.
To learn more about Time Management for Stress Reduction and Productivity, you may read the sample section, Minimize interruptions. You'll see how much useful, skill-building information is packed into this practical guide.
Time Management for Stress Reduction and Productivity is provided in packages of 10. You'll have a copy for each of your reps so that everyone benefits from its powerful message. You'll also receive your manager's copy of the Leader's Guide.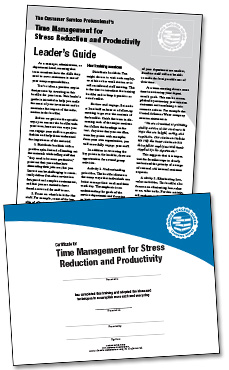 Leader's Guide
Your leader's guide will show you how to conduct training exercises based on the material in the student booklets. You'll receive sample dialog, activities, and tips to engage everyone on your team.
To learn more, read the sample section.
Certificates of Completion
Use these certificates to acknowledge significant learning and development, and to provide motivation to put new skills into action.
Certificates may be downloaded, personalized, and printed.
Table of Contents
Rate your time management skills
Determine how you are spending your time
Review your time management log
Create a to-do list
Create a not-to-do list
Prioritize tasks
Schedule your day
Minimize interruptions from coworkers
Conquer procrastination
Minimize interruptions from email
Manage your documents
Bundle your tasks together
Beware of multitasking
Find an organizational system
Create a list of in-between tasks
Improve your job skills
Worksheet: Time-management self-quiz
Your Guarantee of Satisfaction
Time Management for Stress Reduction and Productivity is guaranteed. We want you and your reps to use this valuable resource and put its ideas to work in your department. Then, if you are not 100% satisfied, you may return your materials within 30 days for a full refund.
About the Publisher
The Customer Service Group provides ready-to-use tools for customer service training and frontline motivation including a monthly newsletter, training guides, DVDs, and Customer Service Week celebration materials.