> Home
Effective Email Communication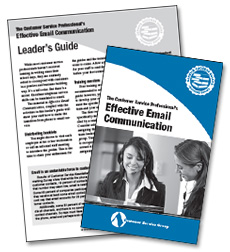 Effective Email Communication provides proven strategies for writing clear, complete and professional email every time.
Read the sample below to see how much useful information is packed into a brief section of this guide.
Slow down and read between the lines
Just as you listen carefully when speaking to customers, you must give that same level of focus and attention to customer emails if you want to handle them correctly.
This involves reading carefully to determine the reason for the message as well as "reading between the lines" to determine unspoken or related needs.
The goal, of course, is to make your response as complete as possible so that you do not create a frustrating chain of email with the customer.
A good example of reading between the lines and answering unstated needs is seen in the following example. A customer writes to ask if dress slacks are available in plus sizes. Rather than a simple "yes," a more complete answer alerts the customer to the limited range of colors available in plus sizes and directs the customer to the size chart on the company website.
Getting good at finding a customer's spoken and unspoken needs is hard. In a conversation, you can ask questions to draw out the information you need. But in an email, you can only work with what the customer has written. Fortunately, you can read between the lines to provide complete information.